IMPORTANT INFORMATION REGARDING UNIFORMS AND MASKS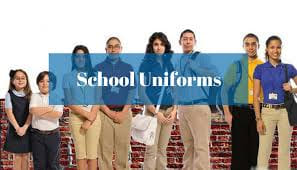 ---
Students returning to school for face-to-face instruction will be required to wear school uniforms. Students will wear uniform pants/bottoms/skirts (no jeans), a uniform shirt (as determined by each individual school), and a belt. These are the only uniform requirements that will be in place through the end of the first quarter.
Additionally, all students will be required to wear a face covering or mask. Inappropriate images or words or any political messages will not be allowed on face coverings or masks.
If you have any questions related to school uniforms or students face coverings, please contact your individual school office. Also, please check with your school regarding any supplies that will be needed.
We will send more information out to you this week regarding our return-to-school plan.
Thank you.